Free Patterns
Chair Socks
The Serendipity Scarf was woven on the rigid heddle loom, but could just as easily have been woven on a larger loom. Click here for a link to this scarf pattern woven by Joan and published in a FREE Handwoven booklet.
Loop Braid Videos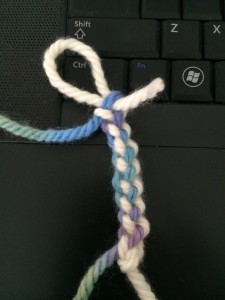 Loop braid, motions only.
Loop braid, with instructions.
Heritage Handy Forms
Download and print any of the forms required for your class projects.
Comprehensive weaving project planning worksheets which include space for all your weaving notes, yarn samples, swatches, photos, even the time you spent on each part of the project!
Warp and weft calculation sheets, which step you through calculating your yarn needs for both warp and weft yarns.
Drawdown form for 4-shaft projects with 24 threads, 26 picks and 6 treadles
8-shaft drawdown form that prints to 11 x 17 paper (or smaller but still very usable on 8 x 11 paper) with space for up to 10 treadles
Knitting grid with equal-sized squares for lace or Fair Isle knitting and space for project notes