,
Words of Wisdom for New Weavers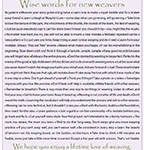 This is a flier that every new weaver should read–whether they are weaving on a small loom or a multi-shaft loom. Permission has been granted for reproduction.
Download the PDF here: NewWeavers.
Heritage Handy Forms
Download and print any of the forms required for your class projects.
Warp and weft calculation sheets, which step you through calculating your yarn needs for both warp and weft yarns.
Drawdown form for 4-shaft projects with 24 threads, 26 picks and 6 treadles
8-shaft drawdown form that prints to 11 x 17 paper (or smaller but still very usable on 8 x 11 paper) with space for up to 10 treadles
Knitting grid with equal-sized squares for lace or Fair Isle knitting and space for project notes
NEW!
Letter sized 4 shaft and 8 shaft blank drawdown sheets.
Free Patterns
Chair Socks
The Serendipity Scarf was woven on the rigid heddle loom, but could just as easily have been woven on a larger loom. Click here for a link to this scarf pattern woven by Joan and published in a FREE Handwoven booklet.
How to Make a Square Braid
Square finger woven braid video, similar to that for which a lucet is used.
With audio instructions: https://youtu.be/RGRGKlXme1E
Visual only, no sound: https://youtu.be/I-W72iQ2s8c