Please note our new hours (above) effective March 22, 2015.

Spring Sale
This week we are getting ready for our spring sale. You can, too! Check this flier for a list of everything that will be on sale. But, there could be more by the time the sale starts on Friday, April 24. The sale ends Thursday, April 30. It is very likely that discounts will get deeper as the sale progresses!
Our Blog is back
Click here to read Joan's latest blog post.
Heritage: Your one stop shop for Shetland and Norwegian yarns!

Our selection of Norwegian yarns has expanded! We now have Tumi, a fingering weight alpaca/wool blend that is scrumptious. It will substitute in patters calling for Finullgarn or Spindrift. It is the yarn specified in the current issue of Interweave Knits for the Endless Rose Cowl (which will be a shop sample very soon).
Did you know that we carry the ENTIRE line of Jamieson's Spindrift–you will find color cards at the link at the top of this page and you will find one to purchase in the Fair Isle knitting book section.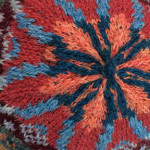 We also have Jamieson's Ultra Lace and their authentic Shetland cobweb yarn.
We carry Rauma Norwegian yarns for sweater and accessory knitting and for weaving, specifically: Strikkegarn, Finullgarn, Prydvevgarn, Tumi, Mitu and a bit of PT5 Sport and Pandora Cotton. Be sure to visit the pattern and book pages to view patterns straight from Norway in both traditional and modern designs.
Join Joan and Arnhild on Tour in Norway in 2016
There is no bigger travel treat than being introduced to a country by a native. While this is not a trip especially for knitters, there will be a knitting component to the trip. Take optional classes on board the ship during our three day cruise in a coastal steamer, knit a commemorative hat, and visit Rauma, the manufacturer of the Norwegian knitting yarns we carry in the store. Norway is a land of dramatic vistas, incredible artists and … trolls! Click here to learn more. The dates: June 25 through July 9.