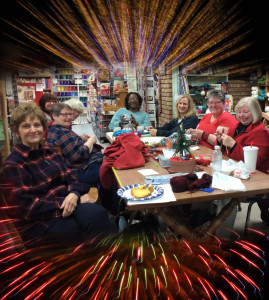 2016 Heritage New Year's Day Party and Sale
I say it every year, but it is true. This is my favorite in-shop event of the year. How can it not be? The atmosphere is relaxed. Lots of people come and spend some time shopping the sales, checking out the NEW additions to the Second Chance Nook, visiting with friends, and actually making progress on projects. If you like your relatives, bring them with. If not, leave them behind. Come early if you want to catch the games on TV or stay all day if you want to avoid them. Lunch is on us from about 12 to 2 (vegetarian minestrone, beefy French onion, and white chicken chili) plus savory breads. Snacks will be out all day (feel free to bring something to add to the selection). We hope that you join us!
Join Joan and Arnhild on Tour in Norway in 2016
SPACES ARE FILLING FAST. There are currently more people on the "interested" list than there are seats available.
There is no bigger travel treat than being introduced to a country by a native. While this is not a trip especially for knitters, there will be a knitting component to the trip. Take optional classes on board the ship during our three day cruise in a coastal steamer, knit a commemorative hat, and visit Rauma, the manufacturer of the Norwegian knitting yarns we carry in the store. Visit the Hardanger Fjord and learn basic Hardanger embroidery or spend the "off" day hiking or fishing, or simply doing "nothing." Norway is a land of dramatic vistas, incredible artists and … trolls! Click here to learn more. The dates: June 25 through July 9.
Heritage: Your one stop shop for Shetland and Norwegian yarns!

Our selection of Norwegian yarns has expanded! We now have Tumi, a fingering weight alpaca/wool blend that is scrumptious. It will substitute in patters calling for Finullgarn or Spindrift. It is the yarn specified in the current issue of Interweave Knits for the Endless Rose Cowl (which will be a shop sample very soon).
Did you know that we carry the ENTIRE line of Jamieson's Spindrift–you will find color cards at the link at the top of this page and you will find one to purchase in the Fair Isle knitting book section. We also have Jamieson's Ultra Lace and their authentic Shetland cobweb yarn.
We carry Rauma Norwegian yarns for sweater and accessory knitting and for weaving, specifically: Strikkegarn, Finullgarn, Prydvevgarn, Tumi, Mitu and a bit of PT5 Sport and Pandora Cotton. Be sure to visit the pattern and book pages to view patterns straight from Norway in both traditional and modern designs.